John Timothy Singer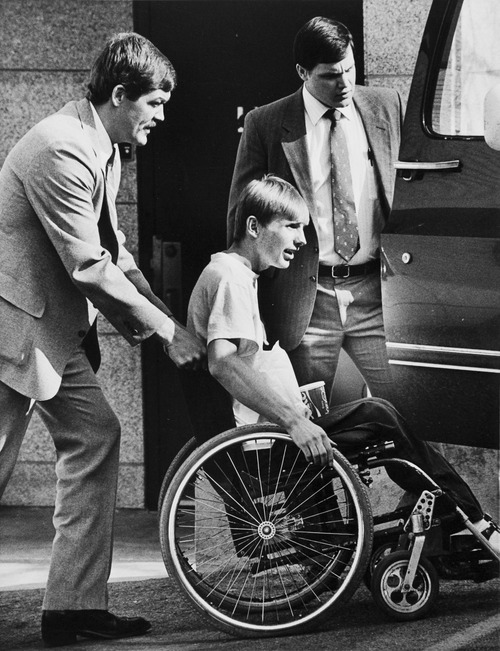 In 1988, during a 13-day stand-off with police, John Timothy Singer (in wheelchair, above) — son of infamous fundamentalist Mormon John Singer — shot and killed Lt. Fred House from the Utah Department of Corrections. The stand-off was prompted after John Timothy's brother-in-law detonated 50 pounds of dynamite at a Latter Day Saints meetinghouse in an attempt to "resurrect" the elder John Singer, himself killed 9 years earlier during his own stand-off with police.
John Timothy Singer is the son of John and Vickie Singer. (Son will hereafter be referred to as "John Timothy," father as simply "John.") His grandfather, John's father, was a Nazi who served in the Schutzstaffel (SS). John himself served in the Hitler Youth at the age of 10. John eventually moved to the U.S. (where he was originally born) and married Vicki. They were both Mormons who raised John Timothy along with 6 other siblings on a 2.5-acre farm and compound in Marion, Utah. In 1970 John was excommunicated from the Latter Day Saints Church due to his advocacy of polygamy. He continued his advocacy for years and in 1979 took a second wife, Shirley Black, who was still married to another man with her own 4 children.
In 1973 John and Vickie withdrew all their children, including John Timothy, from public school in order to homeschool them. Homeschooling was necessary for "shielding the children from a system tainted by sexual promiscuity, drug abuse and racial mixing." While the decision to homeschool created tensions between the Singer family and the local school board, the Singers were allowed to homeschool for several years. In 1979, however, custody of John Timothy and the other children were withdrawn from John and Vickie after they were found guilty of child neglect and abuse. Vicki, however, blamed the verdict on "state authorities and church officials who were angry at [John's] practice of polygamy and refusal to send his children to public schools." After he refused to give up custody, police came to his compound to arrest him. Refusing to surrender, John drew a gun and officers proceeded to shoot and kill him.
The death of their patriarch greatly impacted the rest of the Singer clan, including John Timothy and his brother-in-law, Addam Swapp, who married one of John Timothy's sisters. On January 16, 1988, 9 years after the stand-off between their patriarch and authorities, Addam said he "received a divine revelation" and decided he could resurrect the patriarchy by bombing a public Latter Day Saint building. After doing so with 50 pounds of dynamite, Addam and "14 other members of his extended family" — including John Timothy — holed up in their compound, in a bizarre repetition of the 1979 incident. Police surrounded the compound once again, and the stand-off ended when John Timothy, while wheelchair-bound, "fired a rifle as Lt. Fred House and another corrections officer prepared to release police dogs on the property." John Timothy fired a total of 10 rounds, and Lt. House was struck and died.
In September 1988, John Timothy was charged with murdering a police officer and was sentenced to 10 years in prison and 5 years of probation. He expressed remorse for killing Lt. House but defended his actions. During his trial, his defense counsel described him as "someone living one hundred years ago in terms of his background and education" due to his "intensely religious background" and being "confined at home."  Numerous other members of the Singer family were also charged and sentenced after the stand-off. John Timothy was released from prison in 2006 and returned to Utah to serve parole.