Jeffrey Franklin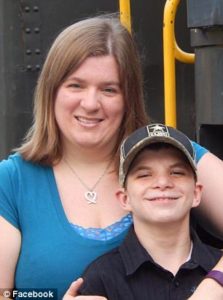 Jeffrey Franklin, age 16, who went by 'JR', is believed to have been murdered by his adoptive parents, Ernest Franklin II and Heather Franklin. Chenango County District Attorney Joseph McBride confirmed by phone that JR was homeschooled.
Ernest Franklin was an Iraq War veteran and Heather Franklin described herself as a "stay-at-home, homeschooling mom." JR came to live with the Franklins in 2010 and was formally adopted in 2012. JR was Deaf and autistic. In February 2017, the Franklins watched the film Manchester by the Sea, in which a character accidentally kills his children in a house fire. Within hours after they watched the film, JR was dead from unknown causes, and the family's home was on fire.
The Franklins were charged with murder and arson.
Date: February 28, 2017
Location: Mount Upton, New York
>